The other night, my cat knocked over my sewing basket, which had a nearly-full box of pins in it. So...pins everywhere. I thought I got them all, though. Of course, what was the first thing I did this morning? You got it, stepped on a pin.

Later, I was flipping my mattress and a wire poked out of the corner and cut the tip of my index finger. Wah.

Because I feel like showing it off, here's the necklace I made for my Matsumoto costume. I cannibalized some other necklaces to make it.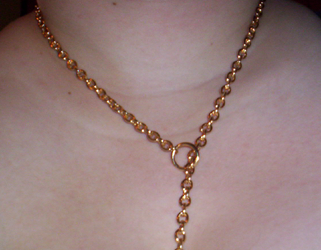 I cut my fabric today, but have yet to actually begin sewing. La la la.